Christmas Party – December 1st 2023
CHRISTMAS PARTY at TEATRO SOCIALE COMO – SALA BIANCA
December 1st, 2023 at 7.30 pm 
Let's Celebrate Christmas Together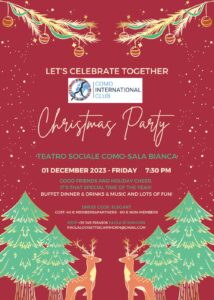 Good friends and Holiday cheer, it's that special time of the year!
Good food, tasty wine, DJ music and lots of fun will be ingredients of the party. 
Teatro Sociale Como – Sala Bianca
Via Vincenzo Bellini 3
22100 Como
Dress code: Elegant
Cost: 40 euro for members and partners, 60 euro for non-members. You friends are welcome too. 
Please contact  PAOLA LOVISETTI SCAMIHORN
email paolalovisettiscamihorn@gmail.com for further details